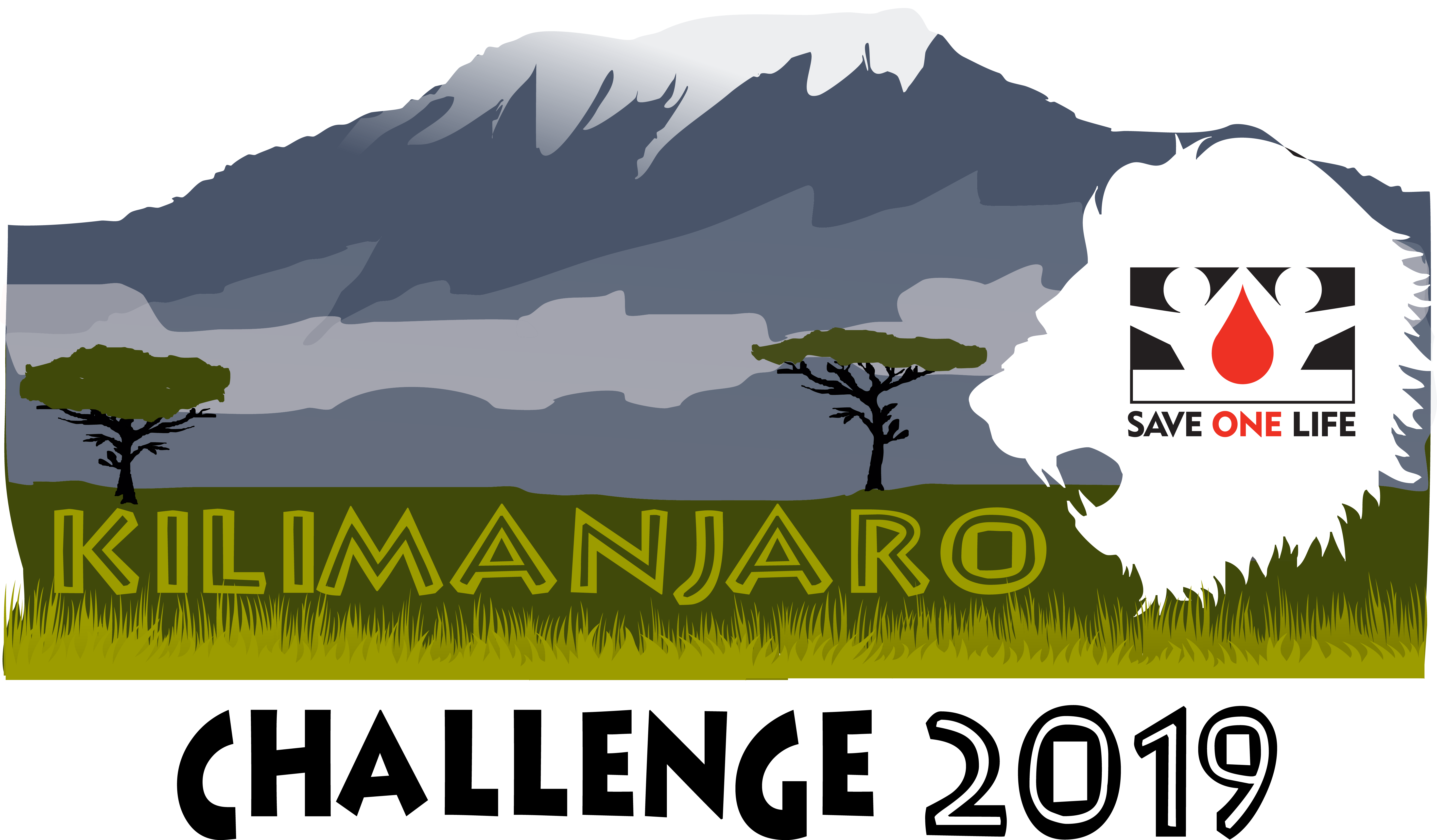 One of Save One Life's greatest fundraisers is also one of our hardest challenges: summiting the roof of Africa, Mt. Kilimanjaro! At 19,341 feet, this famed mountain is the highest on the African continent. Save One Life works in four African countries: Ghana, Nigeria, Kenya and Uganda. We support 143 patients with bleeding disorders financially through sponsorship, scholarships, microenterprise grants and summer camps. We also support patients medically with large donations of factor.
UPDATE (8/13/2019): Our Kili hikers have made it back safely! We are so thankful to them! To-date the group of hikers has raised over $45K for Save One Life's mission. They trained hard and spent tons of personal time to travel and climb - all in support of the global bleeding disorders community.
We applaud you and we thank everyone who helped this trip succeed!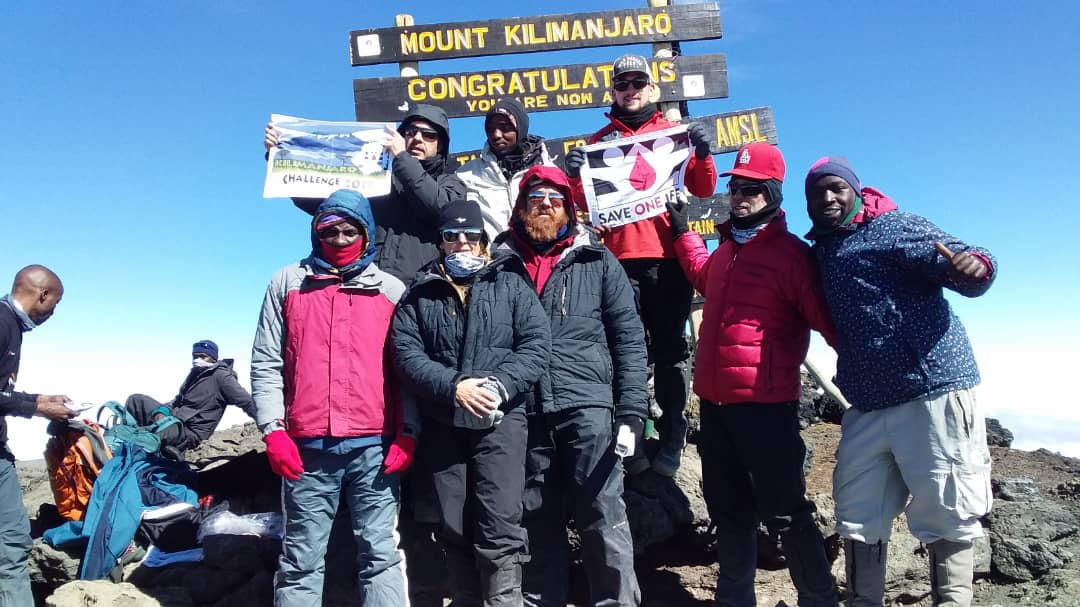 Five of the climbers reached the summit. Three had to turn back. We thank them all!
In August 2019, nine climbers will visit our beneficiaries in Kenya, to see our work first-hand, and to know how our beneficiaries live. Then they will attempt to summit Kilimanjaro in a rugged, six-day climb. From a rainforest at the bottom, to arctic conditions at the top, climbers will be tested for strength, endurance and teamwork. Our goal is to raise $100,000 for Save One Life's operations and programs. Please help us reach our goal by contributing to one or more climbers! Each adult climber has a goal of raising $10,000. Help them reach their donation goal, which will give them the motivation to reach their physical goal!
Meet our Climbers!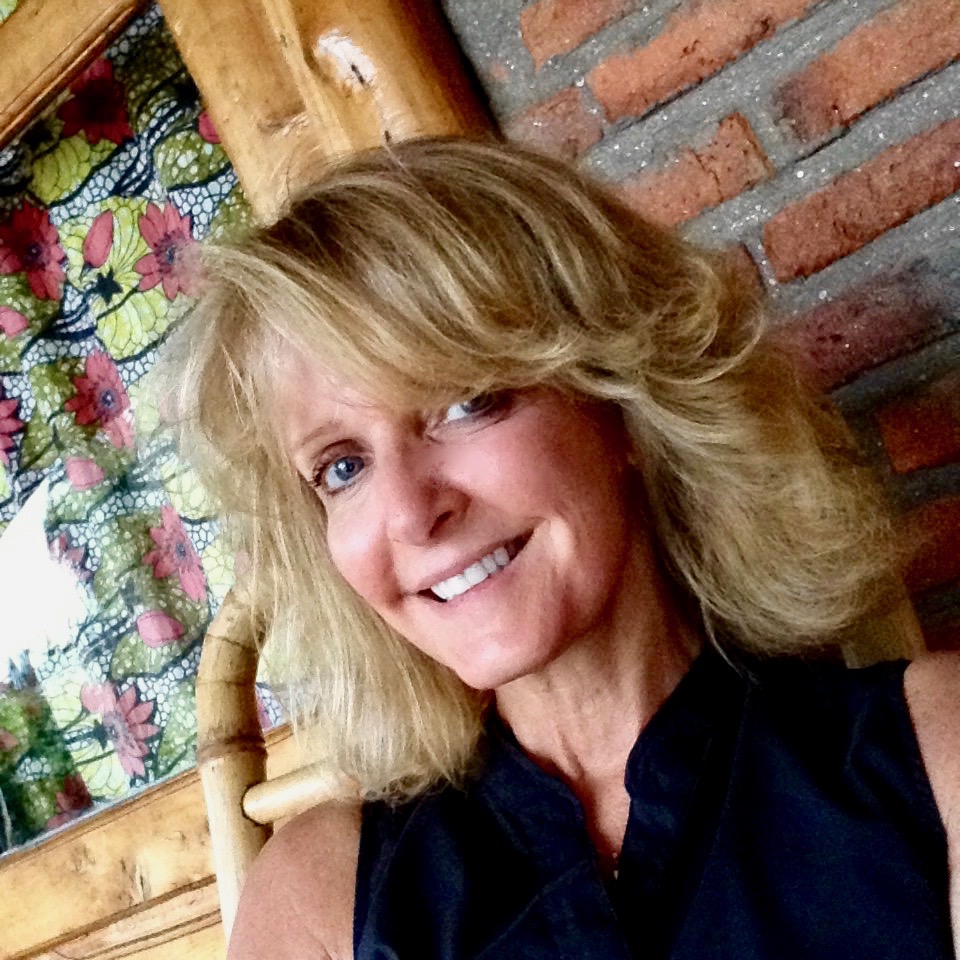 Laureen A. Kelley is the founder and president of Save One Life, which now operates Project SHARE, a humanitarian program that Laurie developed to donate millions of dollars worth of blood-clotting medicine annually to developing countries. The mother of a now adult son with hemophilia, Laurie is also president of LA Kelley Communications, Inc.,which she founded in 1990 to provide practical educational materials for families with bleeding disorders. She is the author of ten books on bleeding disorders, including Raising a Child With Hemophilia, and the founder and editor of the quarterly Parent Empowerment Newsletter, now in its 29th year! Laurie is a fitness enthusiast who enjoys adventure activities like cycling, hiking, white-water rafting, rock climbing and skydiving. This will be her third Kilimanjaro summit to raise money for Save One Life.
Wendie Chadd is a hemophilia sister, mother, symptomatic carrier and life-long advocate. Growing up in a very active hemophilia family and community has definitely impacted her journey both personally and professionally. Having a little brother with a hemophilia, being diagnosed as a carrier at the age of 7, meeting the love of her life having their son Braiden affected by hemophilia 1996 – Wendie knew she would be forever passionate about the medications, care and quality of life for people living with bleeding disorders and other chronic conditions. Wendie lives an active lifestyle in Southern California with her husband and soulmate Ric and their two adult children. Wendie has worked in healthcare her entire life and in Specialty Infusion since 1999. She is proud to be celebrating her 20th year work anniversary with Nufactor Specialty Infusion Company where she is the National Director of Customer Service. Wendie cannot think of a better way to celebrate her 51st year of life and her 20th year working for Nufactor than by raising awareness and money for families living with hemophilia in developing countries. Wendie is a health and fitness enthusiast who enjoys running, yoga, weight training, swimming, hiking and camping. This will be her first trip to the Kilimanjaro climb. She is thrilled to be taking on this adventure with her husband and honored that it will be to benefit Save One Life.
Ric Chadd is a dedicated husband to Wendie, and loving father to their two adult children; the oldest, Braiden, has hemophilia. Ric's love for his family, his friends, his work and the outdoors are undeniable to anyone that knows him. A firm believer in healthy living and family values, Ric always strives to lead his family and live his life by example. His love for fishing, camping, backpacking and hiking are definitely something he has shared with his son as well as many his friends and family members. Ric has backpacked quite a bit throughout California, including The Lost Coast Trail and four Mt Whitney summits with Braiden. Ric is a 20-year traditional martial artist who holds a 6th degree black belt in Yamashita Shorin Ryu, and a 5th degree black belt in Matayoshi Kobudo (traditional weapons). He is the owner/lead instructor of his traditional Karate dojo located in Southern California that is currently in its 16th year. In both his personal and dojo life, Ric believes in shining light on others through his actions. Ric is celebrating his 50th birthday this summer, and could not think of a better way to celebrate than by shining light on Save One Life. His goal is to honor his son and wife while raising awareness about hemophilia in developing countries and raising money for Save One Life. This will be Ric's first Mt. Kilimanjaro climb.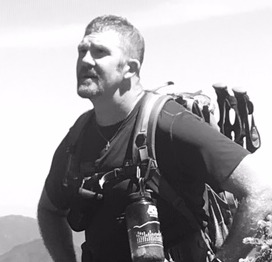 Shannon Peterkin is a husband to an amazing wife and father to two incredible children. Aiden is 16 years old and has severe hemophilia A, and Isabella is 12 going on 20. He has been actively engaged in the hemophilia community for 15 years including serving as a member of the board of directors for the Hemophilia Foundation of Illinois, and as a founding member of Dads in Action chapter in central Illinois. He currently resides in Baton Rouge, Louisiana and supports his hobbies by working as the Radiation Protection Manager of a local nuclear power plant. His passions are fishing with his son, crossfitting with his wife, mountain biking with his daughter, hiking with his Navy brothers in arms and occasionally sneaking in a hunt. While he and his wife have sponsored a child through Save One Life for years, this will be Shannon's first Kilimanjaro summit.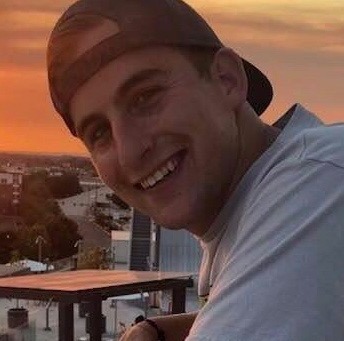 Myles Ganley is a 24-year-old with severe hemophilia B. He has been a community regular since his first camp at age 7. Since then, he has attended over 25 summer camp across the country. At age 12, he suffered third-degree burns over a large portion of his body, which only added to a positive and thrilling outlook on life. Myles was previously a program facilitator with GutMonkey, programming and facilitating summer camp activities. Currently he is a public speaker, delivering pain management, fitness, and nutrition programs to families affected with a bleeding disorder. Myles has a passion for encouraging positivity and adventure. He is an avid rock climber, hiker, snowboarder, golfer, overall outdoorsy guy, and looks for any opportunity to share adventure with others. Kilimanjaro will be his first out of the country mountain and expedition, as well as his first opportunity to support the global bleeding disorder community.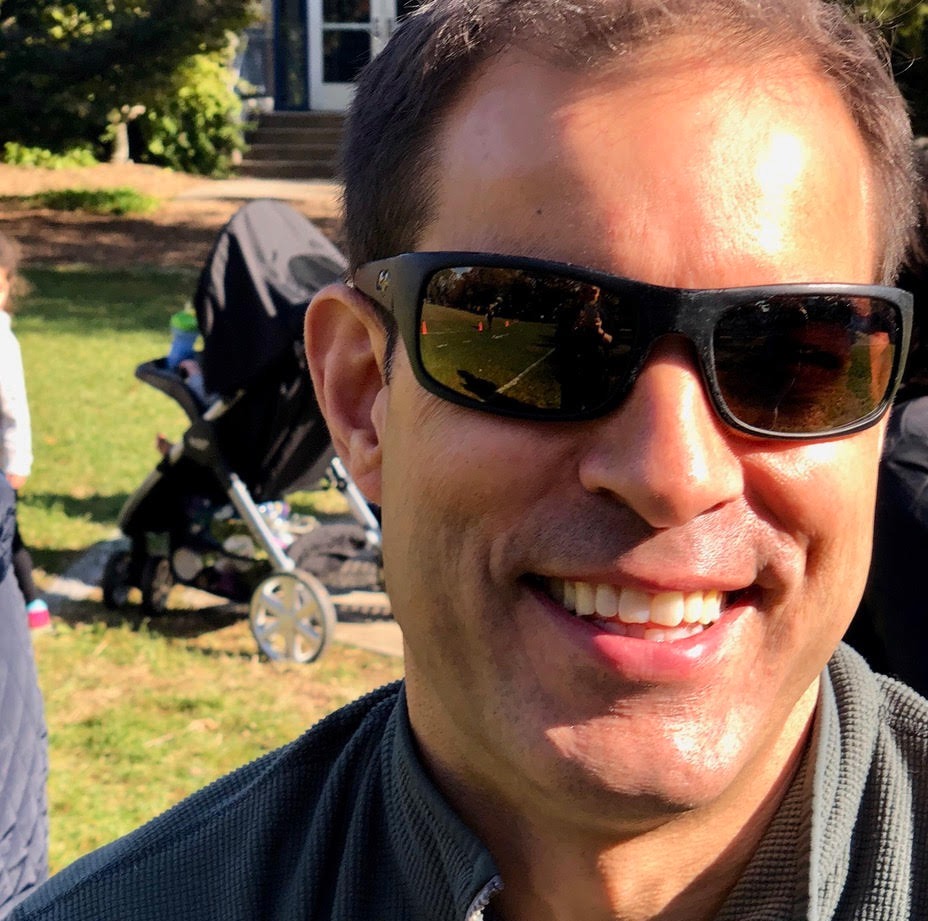 Mike Adelman is the Senior Vice President of Commercial Operations at Aptevo Therapeutics, a position he held had since 2012. In this role, he leads all of the commercial functions at Aptevo, including sales, marketing, contracting, pricing, and commercial analytics. Since Aptevo is the maker IXINITY coagulation factor IX (recombinant), Mike's work revolves around solving for unmet medical and supportive needs for members of the bleeding disorder community. His passion for Save One Life's mission is a natural extension of his daily focus. Mike sponsors four children with bleeding disorders through Save One Life, and this will be his second Kilimanjaro summit in support of Save One Life. Mike spends his free time doting upon his 11 and 14 year old daughters in the Philadelphia area and enjoys staying active and outside as much as possible.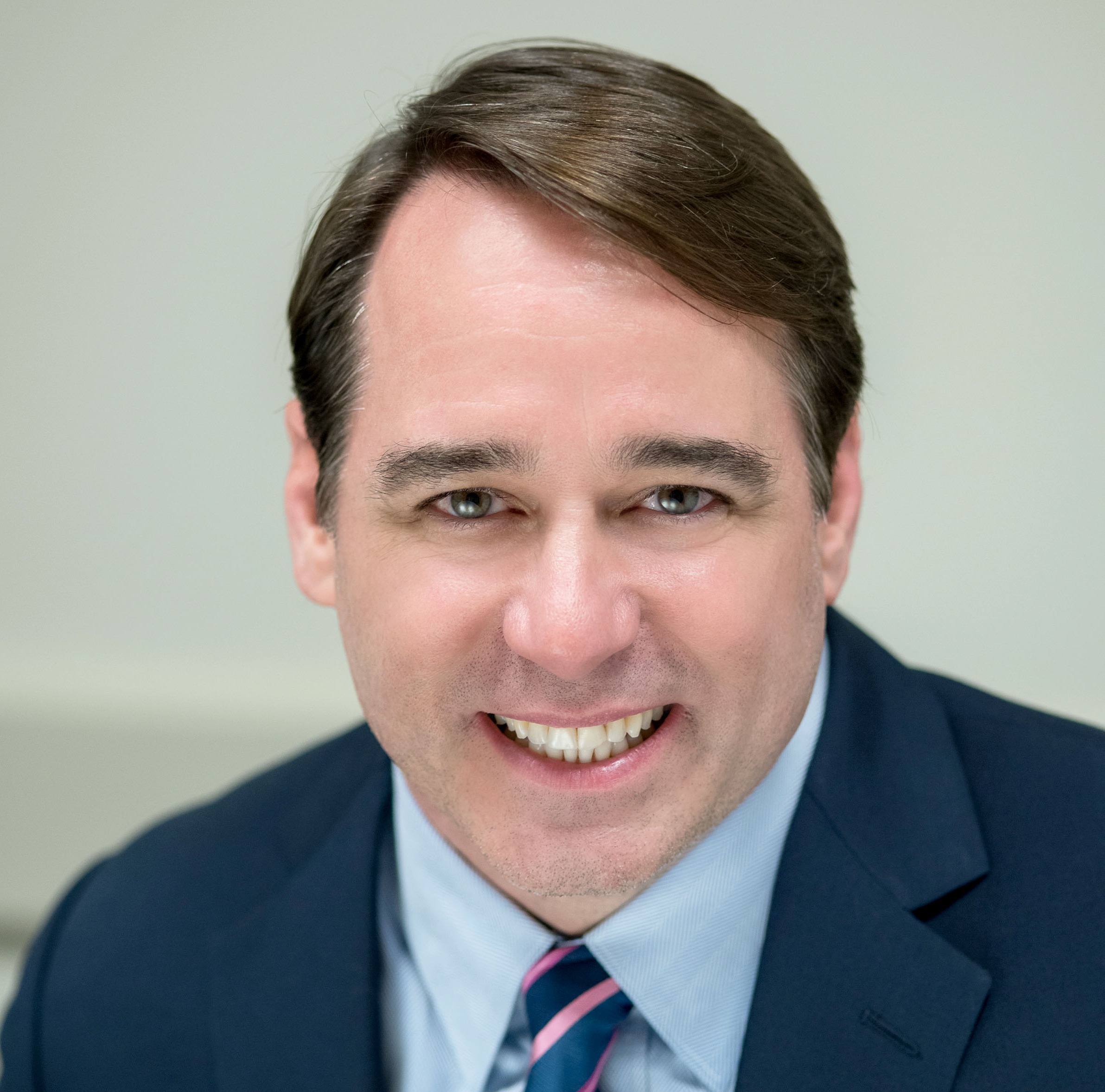 Jim Palmer is a sinus and skull base surgeon at the University of Pennsylvania and thought his first climb of Mt. Kilimanjaro would be his last. After getting to know the Save One Life family, he decided to take up the challenge of another climb, this time with his son, Sam. He is most excited to spend time with some of the families challenged with hemophilia in developing countries and gain perspective on the healthcare differences. He is excited to continue to raise awareness of hemophilia and other blood disorders and its treatment through this climb.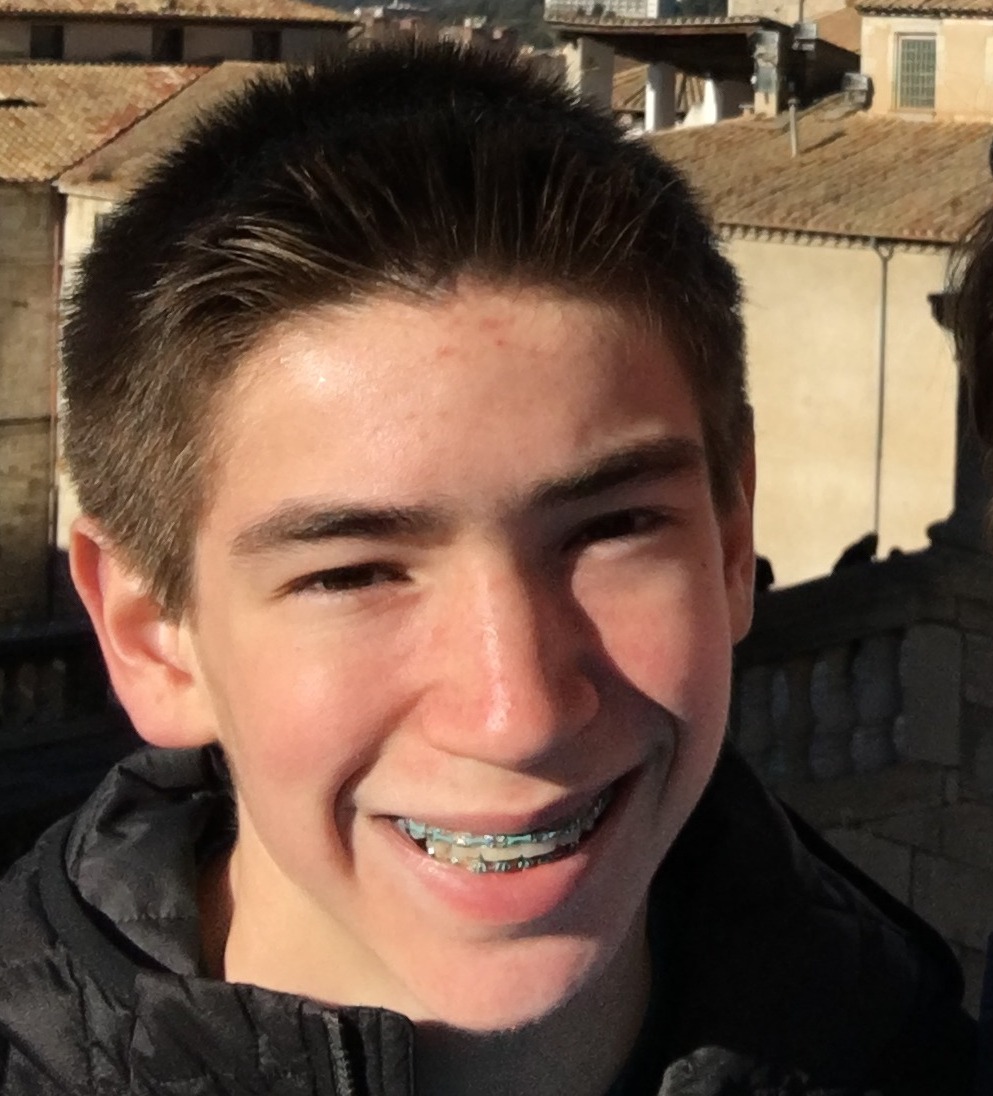 Sam Palmer us a 14 year old sports enthusiast who loves history and discovering new cultures. He will be starting 9th grade at Harriton High School and has a highly developed sense of adventure. After hearing so much about his dad's climb 3 years ago, he is ready to take on the challenge of summiting the highest peak in Africa. More importantly, he is excited to learn more about the challenges of living with hemophilia in developing countries and helping to improve people lives.