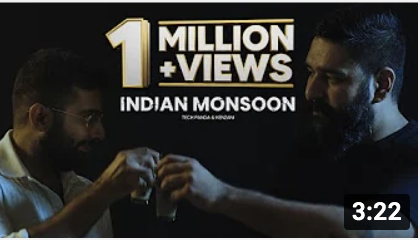 Dec 6, 2021
MEGs changing lives: Chetan's story
I would like to share with you how this Save One Life Micro Enterprise Grant changed my personal as well as professional career in the last year.
I used to get offered independent projects, but I couldn't accept them. Due to low project budgets, producers don't like to pay studio costs. Only editors with their own iMac were given the project.
After receiving the iMac through Micro Enterprise on 19th August 2020, there was a change in my working.
I have edited one music video independently for Tech Panda & Kenzani, and I am happy to share that, this entire music video project I have done on my personal iMac for which I received the grant. (This video has now been viewed on YouTube over 1 million times!)


My upcoming projects, which I am going to edit on this iMac are:
Music video (Post Production work)
Short film Called Yatri Kripya Dhyan De (As an Associate Editor)
Making of Anter 19 (it's a short film, I am doing behind scene edit for this film)
This past year, I worked on a few big and small projects, including:
Online editing work for a Bollywood film, which is yet to be released and likely to be released in 2022. The name of the film is "Dhoka round d corner".
Worked on short film by the name "Sita, Antarvasana", which has already been released and gotten recognition in many film festivals.

I would like to say that due to this granted computer, my income has increased, my confidence has grown and my skills have improved. In this industry, people are working on different software to meet industry requirements and to fulfill these different softwares requirements, the iMac is very helpful to me. I do a lot of practice and keep learning new things to remain updated.
All these things are possible due to Save One Life, which really impacted my life. I will always be grateful for this generosity.
Chetan, Mumbai