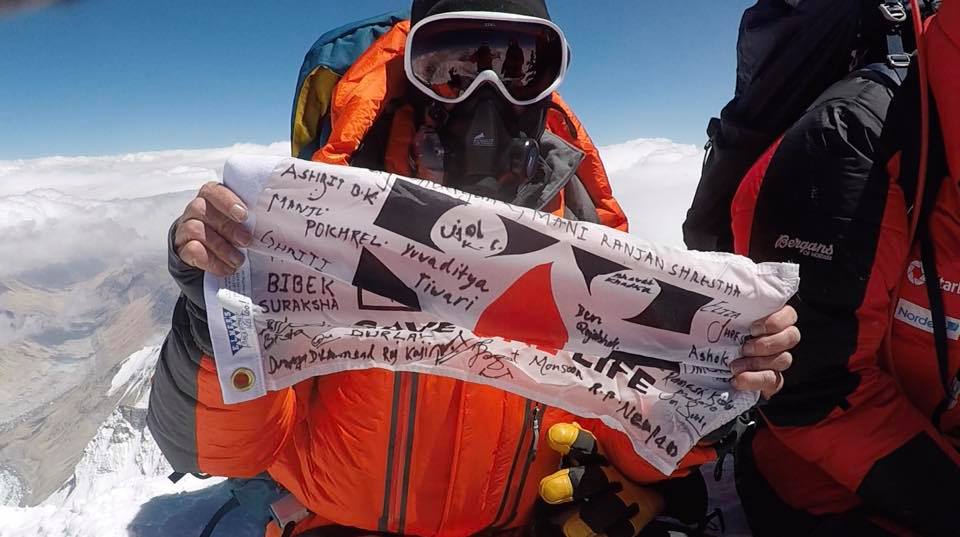 May 23, 2018
The Seven Summits: A Hemophilia Triumph
On January 6, 2018 Chris Bombardier made history by being the first person with hemophilia to complete the Seven Summits-reaching the top of the highest peak on each continent. His accomplishment proves that with proper training, medical treatment, preparation and determination someone with a bleeding disorder can pursue ambitious physical goals.
Chris has severe hemophilia B and is fortunate to live in a country where treatment is readily available. He wasn't always a mountaineer; his first passion was baseball, which he played in college. After graduation, he returned to his home state of Colorado, where his uncle encouraged him to try mountain climbing.
Chris traveled to Kenya in 2011 on a humanitarian mission to help set up a diagnostic lab at Moi Teaching and Referral Hospital in Eldoret. While there, he climbed Mt. Kilimanjaro. The trip proved to be a catalyst. Chris realized that access to medical care and treatment allowed him to scale the highest peak in Africa, while hemophilic patients in Kenya-with little to no access to treatment-suffered so much that they often could not finish school or hold a job. An idea was born-climb the Seven Summits to raise awareness about the struggles faced by people with bleeding disorders in developing countries.
About the same time Chris met Laurie Kelley, mother of a child with hemophilia and founder of Save One Life that provides direct financial assistance to children and youth with bleeding disorders in developing countries. Chris subsequently joined the board of directors. He decided to leverage his climbs as fundraisers for his new favorite charity.
In 2013, Chris climbed Aconcagua in Argentina, then 18,510-foot Mt. Elbrus in Russia. In 2014 he took on the highest peak in North America-Denali. In 2015, Chris traveled to Papua, where he summited 16,024-footCarstensz Pyramid, the highest peak in Australasia. Two peaks remained. Chris wanted to summit Mt. Vinson in Antarctica before taking on Everest but was denied a permit due to his hemophilia. Chris then set his sights on Everest, noting that if he succeeded, he would be given a permit for Vinson.
Chris summited Mt. Everest on May 22, 2017. Only hundreds of feet from the top, he lost energy and hope. Tashi Sherpa clipped Chris into a rope and reminded him that his friends, family and community were rooting for his success. "Tashi, and remembering the Save One Life flag in my pocket covered with signatures of the members of the Nepal Hemophilia Society, helped me keep going."
At last, Chris was granted permission to climb Mt. Vinson. "The scope of Antarctica and the feeling of remoteness was so special," Chris adds, "I have never been to such a pristine and untouched place. It was awe inspiring!"
Chris is now one of only 450 climbers in history to complete the Seven Summits-and the only one with hemophilia! Through his climbs Chris helped raise over $90,000 for Save One Life's programs and inspired others sponsor more than 50 children.
Chris's climbs have been made possible through generous sponsorships from numerous companies and individuals. Octapharma, a manufacturer of blood-clotting products and the largest privately owned human protein products manufacturer in the world, sponsored his Everest and Vinson trips. Octapharma is a major Save One Life donor. The company is also sponsoring a documentary about Chris, called "Bombardier Blood," to be released in 2018.
To learn more about Chris and his Seven Summits Quest, visit http://adventuresofahemophiliac.com/seven-summits/