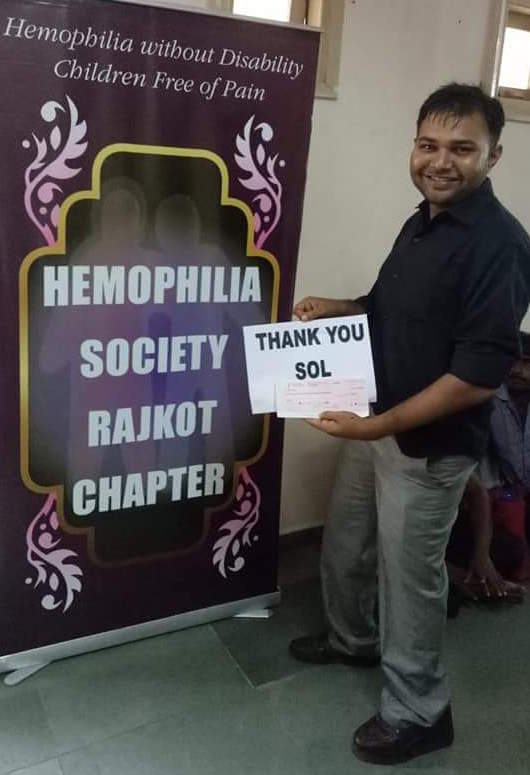 Aug 26, 2018
Remarkable Perseverance
Lots of perseverance was needed to make his dreams come true, but this past June 29-year-old Anil Gabu, who has severe hemophilia A, graduated with a bachelor's degree in mechanical engineering from Gujarat Technological University. He did not have a paved road to reach this goal—many challenges preceded his achievement.
While growing up in a small village 120 kilometers from the city of Rajkot in Gujarat, Anil's parents worked as farm laborers and were unaware their three sons had hemophilia. The brothers suffered much pain due to regular bleeds in their joints, and the oldest two had brain hemorrhages twice. It was a terribly difficult time for the family until they managed to contact the Rajkot Chapter of Hemophilia Federation (India), which stood behind the family.
Tragically, a terrible earthquake destroyed their home in January 2001—a disaster in which 17,000 people were killed. Fortunately, none of the family members were injured. Soon after they moved to the outskirts of Rajkot, where Anil's father started working as a rickshaw driver and his mother as an industry laborer. They stayed in housing provided by his mother's employer. The brothers were 13, 10 and 8 years old at the time. The struggle with their illness was somewhat relieved as the hemophilia society supported them medically, economically and emotionally. Especially in the beginning, during their bad days, they received both food and factor when needed.
Anil, the oldest of the three brothers, had lost four precious years of his education due to knee damage and not being able to walk without crutches. Luckily, with the support of Hemophilia Federation (India), Anil received corrective surgery on his knee in Pune, a city 840 kilometers south of his home. He went back to school and at age 22 graduated from secondary school—sometimes feeling odd among his much younger schoolmates. In 2011 Save One Life stepped in, first with a sponsorship and later with scholarships, which covered college fees, books, transportation and half the cost of a laptop. The remaining 50% was covered by the hemophilia society.
Today all three brothers still live with their parents. While Anil is now graduated, both his brothers are doing relatively well, too. His middle brother is a laborer in the plastic industry and his youngest brother, who unfortunately has inhibitors, is interning as a hospital assistant specializing in sanitary inspection.
Anil is very grateful to Save One Life. "My parents could not have financially supported my studies. I am so thankful for the support that came from other corners of the world! I pray that all those who helped will be granted happy and healthy lives as my life is now, though it was miserable once upon a time."