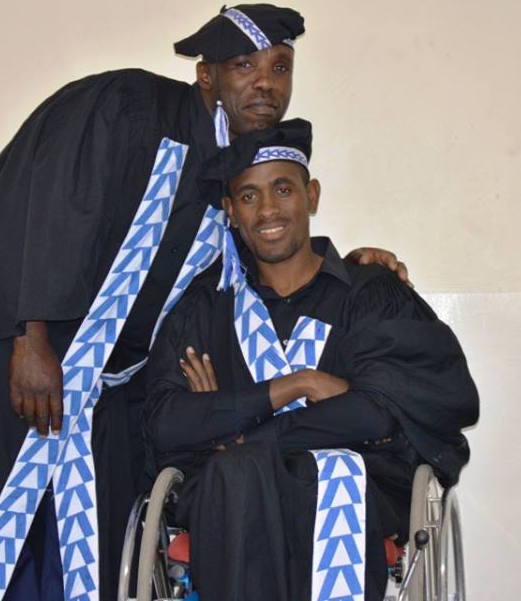 Dec 4, 2018
Turning Adversity into Opportunity
Being in a wheelchair hasn't stopped 26-year-old John Wambua Mueni of Kenya from reaching his dreams.
John's childhood was hard. He grew up without his father. He lived with his mother, grandmother and uncle, who cared for the family. John's mother has epilepsy and his much older brother also has severe hemophilia. With so many health problems in the family, they initially thought it had something to do with witchcraft!
When John was seven years old he fell and bled in both knees. He couldn't walk and was taken to the hospital 21 miles away. It was only then his family discovered he has severe hemophilia A. Since there was no treatment available, John was given vitamin K.
John continued to have joint and gum bleeds. At the age of ten he started using a wheelchair and attended a boarding school for children with disabilities. In 2012 John gained admission to the prestigious Buruburu Institute of Fine Arts and, thanks to scholarship and sponsorship support from Save One Life, graduated four years later as a full-fledged interior designer with a focus on disability access.
In addition to his studies, John has also excelled at sports. After competing in numerous local events, he participated in the All Africa Games for people with disabilities in 2015. Seventeen countries were represented and John came in eleventh out of all attendees. John regularly participates in the Standard Chartered Marathon Paralympics in Kenya. Just this 28th of October John came in 4th in a 13-mile race. His strong wish is to have a better wheelchair in order to win!
John has set his sights on opening his own design firm, which Save One Life hopes to support with a micro-enterprise grant in 2019. He writes, "I want to develop the best design concepts to help people with disabilities have less stress, depression and loneliness." With John's determined focus, we are confident he will succeed!