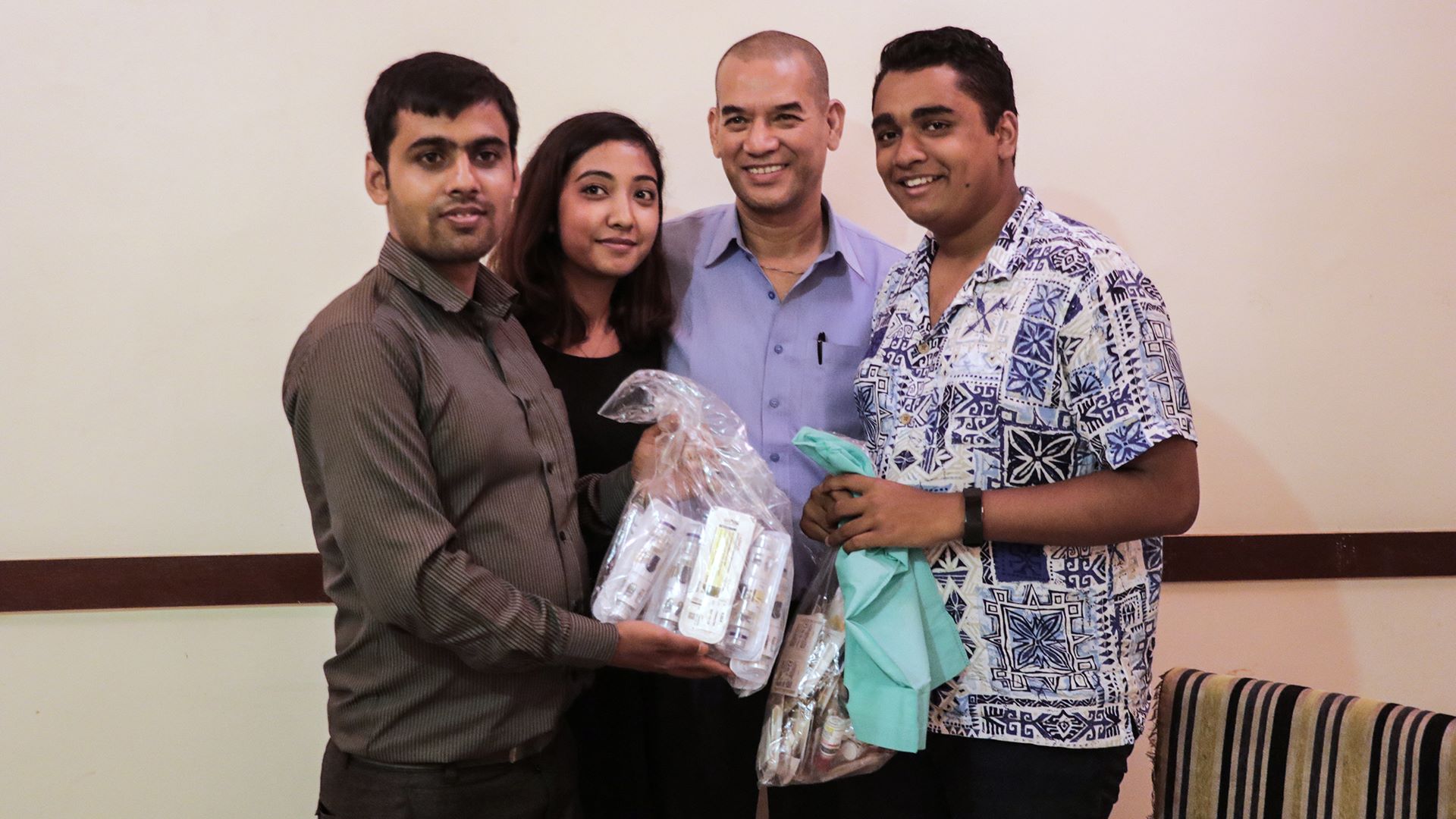 May 24, 2019
What I learned by visiting Nepal Hemophilia Society? By Nitya Bhattarai
What I learned by visiting Nepal Hemophilia Society
Nitya Bhattarai
Never once in my life did I consider hemophilia treatment centers (HTC), like the one I go to at Yale Hospital, a blessing. It seemed straightforward: I would go once a year, staff would check in on me, we'd converse a little, and I'd be on my merry way. I never thought to thank the countless people who worked to take care of my rare bleeding disorder, including doctors, nurses, physical therapists, and social workers. And I never realized that for the many families affected by bleeding disorder in Nepal, comprehensive care is all but a dream.
The Nepal Hemophilia Society (NHS) is the national bleeding disorders organization in Nepal, a developing country, with a goal to provide better care for people with bleeding disorders. It has an office at Anamnagar, Kathmandu. It is in a small house, similar to those surrounding it. There are a couple of small rooms where they host various meetings such as Save One Life fund distributions.
Priceless Interaction with Nepali Youth
When I visited Nepal in July 2018, I brought with me some donated factor VIII and IX. To accept these, NHS graciously hosted an event in Kathmandu where I had an opportunity to meet and learn about NHS and its members. I took the opportunity to ask many questions—mainly about their needs and medical conditions. I was also asked plenty of questions by more than a dozen youths on various medical and social issues. They also asked about how to expand their "brand." Although I learned about many hardships within their hemophilia community that I had never fathomed, it was also inspirational to learn about how these families were fighting through it. Save One Life's monetary donations as well as scholarships play a big part in the community. Many of the first recipients of Save One Life's scholarship credit their current life to the that program. Here are some of topics everyone shared with me:
How the beneficiaries spend donation money
How they feel when receiving the money
How they feel hope when listening to hemophilia leaders and researchers
How someone like me from the US can support them
Possible fundraising events
Lack of Life Saving Medicine
The biggest problem in Nepal is a severe lack of life saving medication. NHS relies mostly on the World Federation of Hemophilia and Project SHARE for donations. Rarely does a patient get the opportunity to be on a prophylactic medication plan.
Medical Awareness: Another Major Problem
Unlike other tourists who are looking at temples in Kathmandu, I learned how it feels to be a young adult with hemophilia and the plights they have to deal with on a daily basis. One common problem is lack of knowledge about hemophilia within the medical community of Nepal. Many times when these hemophiliacs go to the hospital, the doctors have very little knowledge on hemophilia or do not know how to treat it. This can serve as a problem as there may be no immediate help in case of emergencies.
Correct diagnosis and access to care are other major issues. One of the members told me of a story of one accident where doctors diagnosed him with hemophilia A. However, during another incident, he was diagnosed with hemophilia B. Unlike the current healthcare system in the US, Nepalese healthcare providers reserve the right to deny service based on whether the visit benefits their business. Due to this, no hemophiliacs have been given coverage as it would cost the providers too much.
Advocacy—The Path Forward
Despite all the issues, NHS has been advocating for hemophilia treatment and care, counseling, and educational/awareness, by lobbying with key policy makers. As a result NHS had an important achievement: Hemophilia has been categorized as a disability in Nepal according to the Person with Disabilities Rights Act 2016. Despite the lack of factor, this categorization has at least offered some rights for persons with disabilities.
Through the direct impactful work of Save One Life I was able to meet many capable youth leaders in Nepal, that now has led me to believe the future is not so bleak for people with hemophilia in Nepal in days to come.